Project Description
Extras is a native mobile application created to connect restaurants who want to donate extra food with volunteers who can deliver it to people in need. A collaboration between myself and a fellow UI Design student, this was a group project for a practice client (a UI Design alumnus). Our client came to us with an idea for a native mobile app and we designed it.
My partner and I met with the client once in person, then scheduled times to check in via Slack to show our progress and get feedback. We worked on the project for a total of five days, at the end of which we presented our product, an InVision prototype, to the client and the rest of our class.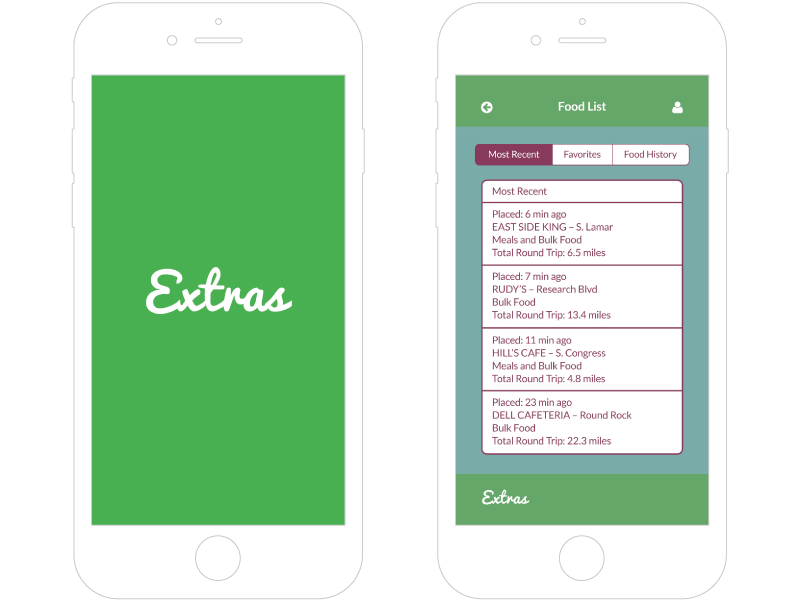 User Stories
In addition to creating three separate personas for the project, we came up with a user story for each. These stories represented the unique needs of the personas, and presented design problems that needed solving. This helped inform our decisions about how to design our app.
Cynthia

"As a Cafeteria Manager I want to be able to schedule a food donation pickup quickly and efficiently so I don't waste my time or resources."

Phil

"As a Restaurant Owner I want to be able to give back to those in need in my community so I can feel like I'm making a difference with my business."

Jason

"As a Volunteer I want to be able to know where to pick up food donations and exactly where the drop spots will be so I can give back and do it within a schedule that I always assumed was unforgiving."